2020 NISSAN TITAN XD
The 2020 Nissan TITAN XD for sale at Headquarter Nissan in Columbus, GA – near Fort Benning, LaGrange, and Cataula, GA, and Auburn and Phenix City, AL – is deemed full-size for a reason – it can handle anything. Under the hood, you'll find a 5.6L Endurance® V8 engine generating 400 horsepower and 413 lb.-ft. of torque. Plus, with a 9-speed automatic transmission and available 4X4 capability, you'll be able to navigate any terrain with no limitations. Passerby can't help but notice your stylish ride, which is defined by sleek black bumpers, a black front grille, and black door handles, all of which lend the car an athletic look. Plus, with 18-inch silver-metallic styled steel wheels, this truck knows how to make an entrance. Inside, your guests and you will be comfortable year-round, thanks to dual-zone automatic climate control. This truck understands that life is messy. That's why it's equipped with cloth seat-trim with stain-resistant bolsters and Easy Clean® vinyl flooring. We know you want to stay connected, even on the go, and this truck makes that easy with features such as NissanConnect® with Apple CarPlay® and Android Auto™. Now, you'll never leave home without your favorite podcast in hand. And, with a 7-inch advanced driver information display, your car's most vital information will always be front-and-center. There's so much to love with the 2020 Nissan TITAN XD.
Today is a great day to buy a new Nissan! Take your test drive at Headquarter Nissan by visiting the showroom at 1725 Whittlesey Road in Columbus, Georgia. Ride home in your new 2020 Nissan TITAN XD today!
DESIGN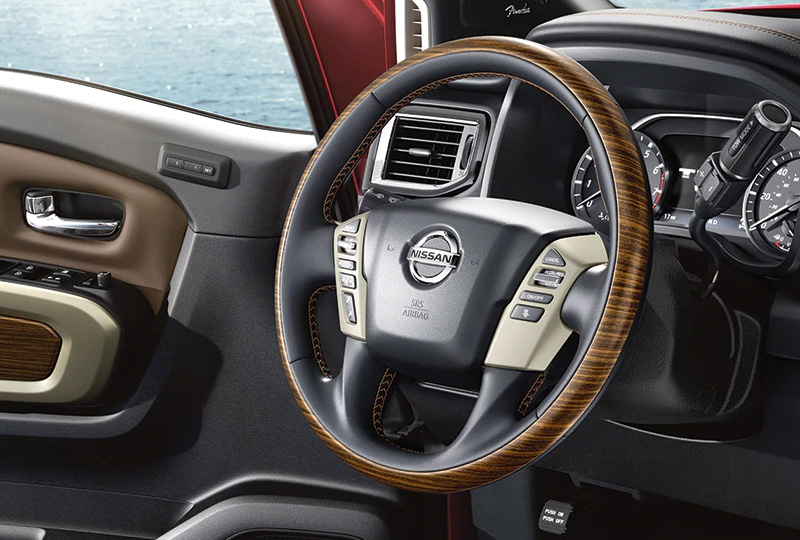 HEATED STEERING WHEEL
The available heated leather-wrapped steering wheel warms your hands on cold days for maximum comfort.
PERFORMANCE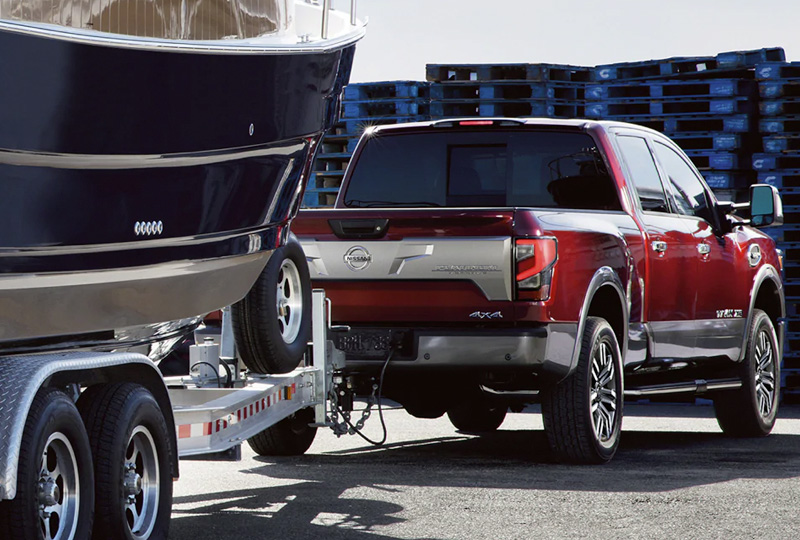 TOWING WITH CONFIDENCE
Choose the 2020 TITAN XD to tow with confidence, with the 3" larger frame with commercial grade components and heavy duty brakes for bringing those heavy loads to a stop.
SAFETY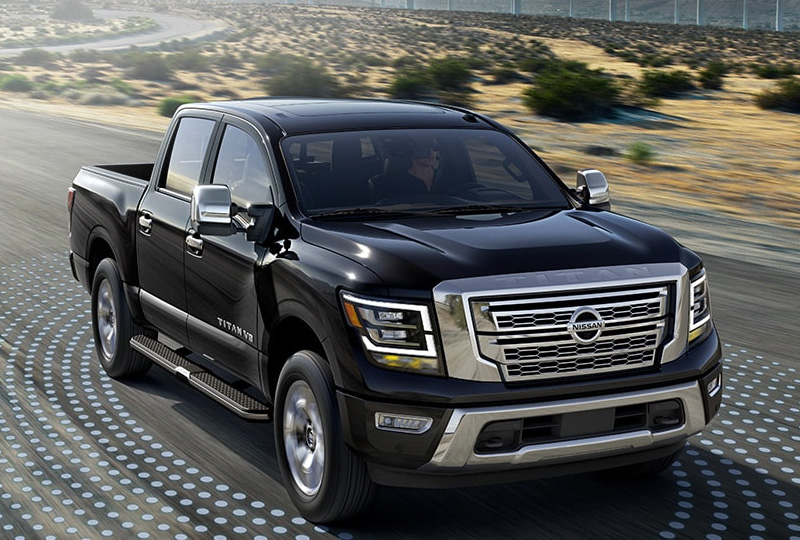 LANE DEPARTURE WARNING
Hold it right there. Lane Departure Warning helps make sure you change lanes only when you mean to.[*] If the system detects that you're drifting over, it'll warn you.
TECHNOLOGY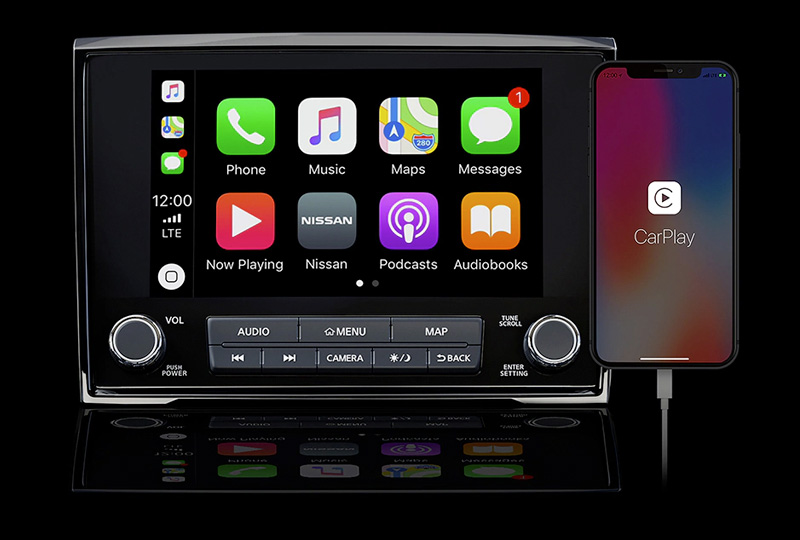 NISSAN DOOR TO DOOR NAVIGATION
Nissan Door to Door Navigation, featuring live traffic information, 3D building graphics, and seamless turn-by-turn directions. You can even get walking directions to and from you TITAN - a great help in unfamiliar locations.[*][*]
Lane Departure Warning only operates when lane markings are able to be detected. See Owner's Manual for safety information. Feature availability is dependent on vehicle model, trim level, packaging and options. Trial included with vehicle purchase. Compatible connected device may be required and feature availability may be dependent on device's capability. Refer to connected device's owner's manual for details. Late availability for some features. Driving is serious business and requires your full attention. Only use features and connected devices when safe and legal to do so. Some features, including automatic crash notification and SOS, are dependent upon the telematics device being in operative condition, its ability to connect to a wireless network, compatible wireless network availability, navigation map data and GPS satellite signal receptions, the absence of which can limit or prevent the ability to reach Customer Care or receive support. GPS mapping may not be detailed in all areas or reflect current road status. Never program GPS while driving. Only use Remote Engine Start and Remote Horn features in accordance with any laws, rules or ordinances in effect in your vehicle's location. Some services and features are provided by and dependent on third party service providers and not Nissan. Should such service providers terminate or restrict service or features, service or features may be suspended or terminated without notice or with no liability to Nissan or its partners or agents. Services and features may require compatible cellular network provided by independent companies not within Nissan or its partners' or agents' control. Cellular network signal strength may vary and may not be available in all areas or at all times. Services and features may not function if cellular network is unavailable, restricted, or terminated. Nissan and its partners or agents are not responsible for associated costs or other third party changes that may be required for continued operation due to cellular network unavailability, restriction, or termination (including equipment replacements/upgrades, if available, or roaming charges on alternative networks). Technology is evolving, and changes by independent companies are not within Nissan's or its partners' or agents' control. Enrollment, owner consent, personal identification number (PIN), and subscription agreement may be required to receive full suite of features and services. Trial periods (if applicable) begin on the date of vehicle purchase or lease of a new Nissan. Trial periods and feature availability may be subject to change at any time and may be subject to early termination without notice. Required subscriptions may be sold separately for each available feature or service after trial period ends, and may continue until you call service provider to cancel. Installation costs, one-time activation fee, other fees and taxes may apply. Fees and programming subject to change. Feature may be subject to age restrictions in some areas. Subscriptions governed by service provider's subscription agreement, terms and conditions and privacy statements available at service provider's website. Text rates or data usage may apply. NissanConnect with WiFi terms and conditions of subscriber agreement apply. Included with vehicle purchase 1 GB or 30 Day Trial on equipped new Nissan vehicles. If your Vehicle is outside the scope of the initial roadside assistance plan included with the purchase of your Vehicle that applies for a period of 36 months or 36,000 miles from the date the Vehicle is delivered to the first retail buyer or otherwise put into use, whichever is earlier you will be responsible to the Service Provider for any additional charges incurred by receiving services through that roadside assistance Service Provider. The Nissan names, logos and slogans are trademarks owned by or licensed to Nissan Motor Co. Ltd. or its North American subsidiaries. Other trademarks and trade names are those of their respective owners. For important safety information, system limitations, and additional operating and feature information, see dealer, owner's manual, or www.nissanusa.com/connect/legal.html. The Nissan names, logos and slogans are trademarks owned by or licensed to Nissan Motor Co. Ltd. and/or its North American subsidiaries. Other trademarks and trade names are those of their respective owners.